A Culinary Experience to Savour
Located in the old parlour of a beautifully restored 1832 manor house, the HobNob Restaurant & Wine Bar brims with historical elegance. Adorned by a sparkling crystal chandelier, carved wooden doors, a stately fireplace and original oil paintings, the restaurant promises laid-back yet exquisite indulgence. Whether you're enjoying a leisurely breakfast after a stay at The Charles Hotel, an afternoon lunch or a multi-course dinner, discover classic dishes prepared using the best ingredients and designed to pair perfectly with Niagara's finest wines.
Make a Reservation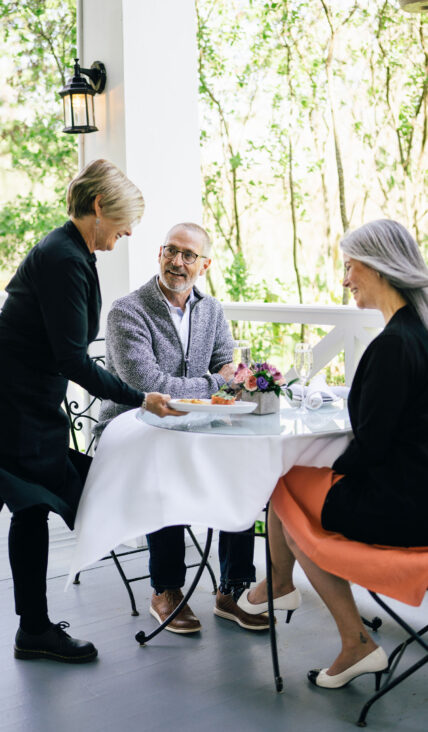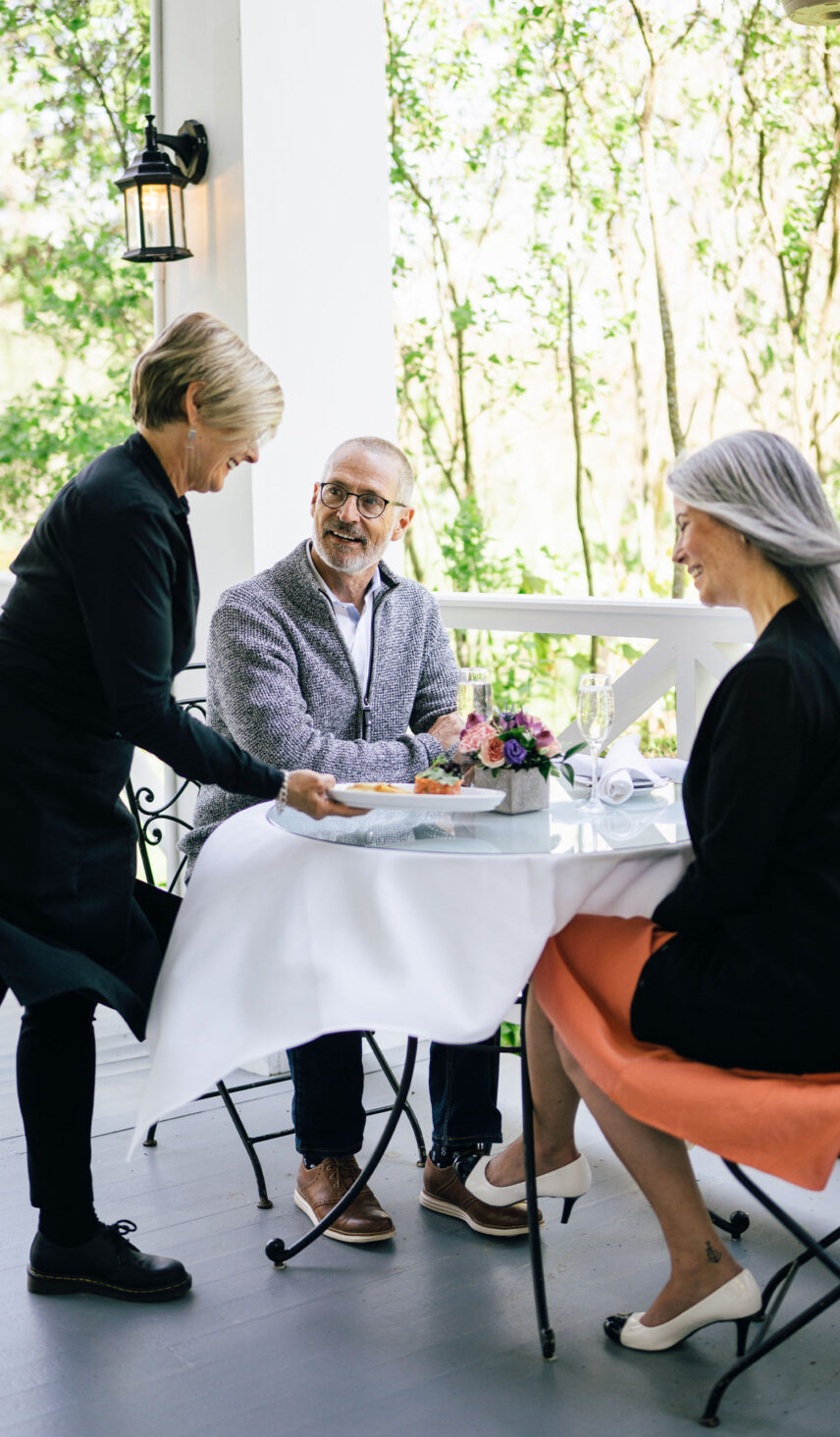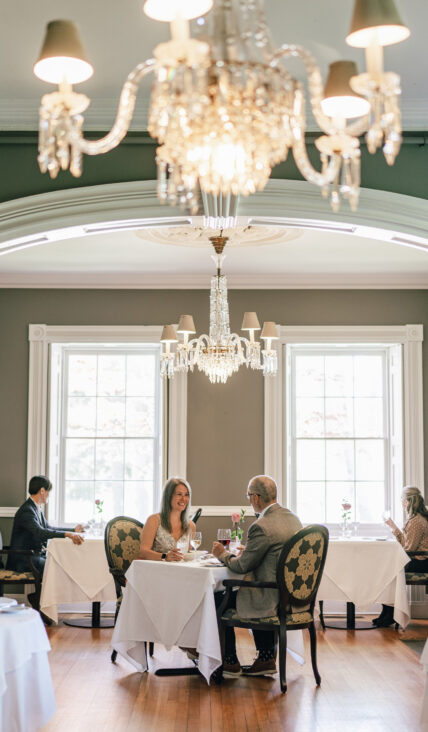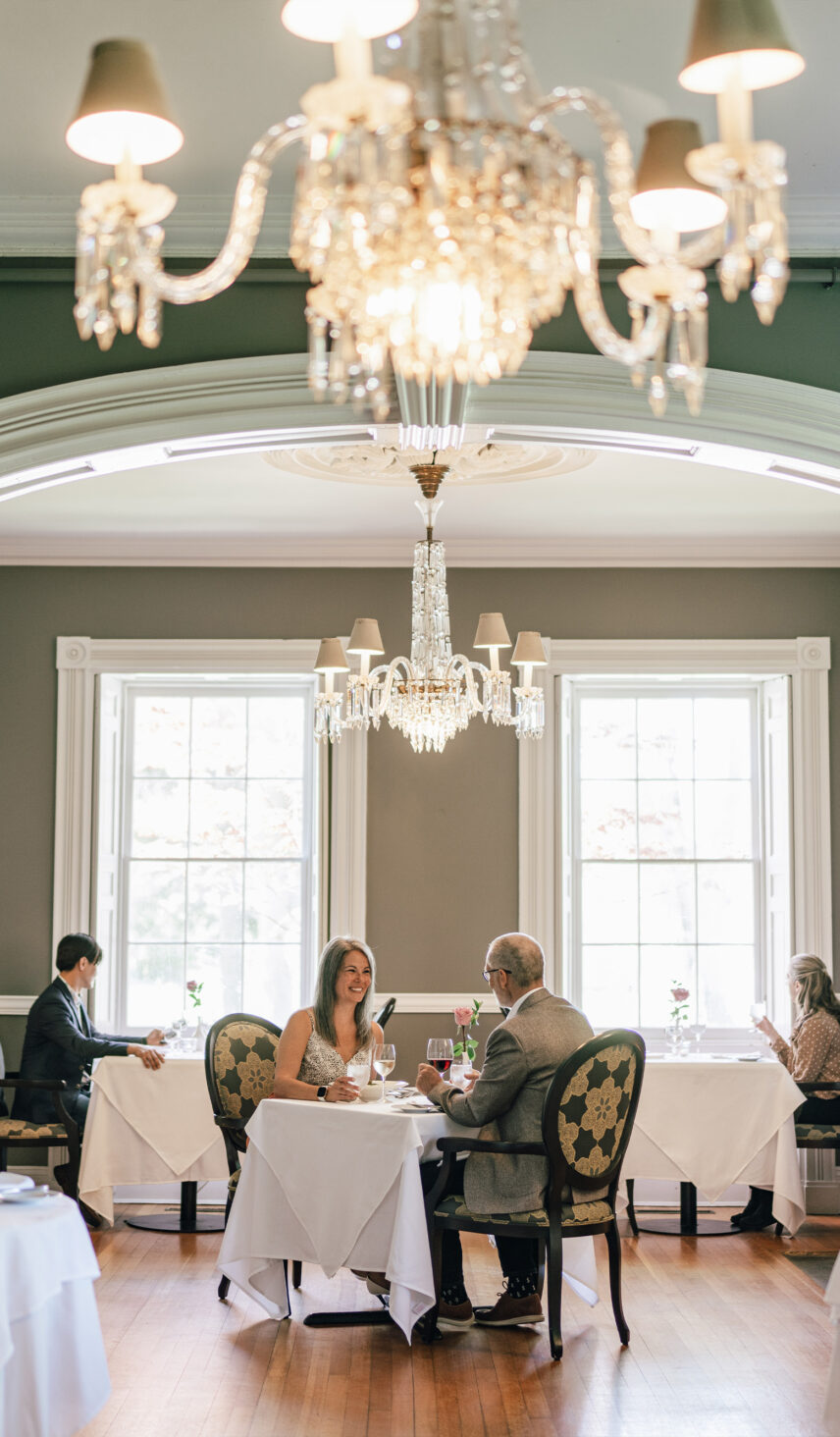 Restaurant Hours
Breakfast: Daily 8 a.m. -10:30 a.m. *Breakfast will not be available December 5 & 6, 2023
Lunch: Daily 11:30 a.m.–2:30 p.m.
Dinner & Lounge: Daily 5 p.m.–9 p.m.
Menus
Traditional Breakfast

$20

Two farm fresh eggs cooked to your liking, choice of sausage links, bacon, or peameal bacon, lyonnaise potatoes, choice of toast.

Continental

$19

Yogurt (vanilla or plain), boiled farm fresh egg. fresh fruit, granola, croissant, danish.

French Toast

$19

Brûlée French toast, icing sugar, local maple syrup, whipped cream, fresh fruit, choice of sausage links, bacon, or peameal bacon.

Omelette

$22

3 eggs, choice of bacon, sausage, bell pepper, mushroom, tomato, spinach, chives, cheese, choice of toast.

Eggs Benedict

$18

Poached farm fresh eggs, hollandaise, spinach, toasted English muffin, lyonnaise potato
Add: Smoked Atlantic salmon $6 or peameal bacon $6

Sides

Toast

$3

White, brown, rye, sour dough, gluten free

Beverages

Hob Nob uses Nespresso products for its espresso, cappuccino and café latte.

The Charles Hotel uses Nespresso Products for its Cappuccino, Latte, and Espresso
Artisan Bread

$7

Flavored whipped butter, maldon salt, oil.

Soup of the Day

$16

Chef's choice.

Wedge Salad

$18

Iceberg lettuce, blue cheese, crispy prosciutto, pickled carrots, peppercorn vinaigrette.
Add chicken $8

3 Cheese Arancini

$20

Fire roasted tomato sauce, fresh basil. 

Fried Brussels Sprouts

$17

Pickled ginger, miso mayo, toasted sesame seeds, green onion, cilantro.

Shucked Oysters

$26

Red wine mignonette, fresh horseradish, fresh lemon (6).

Charcuterie

$40

Local prosciutto, lonza, capicolla, Niagara cheeses, house pickles, crunch mustard, crackers.
Exclusively local cheese or meat $24

Mains

Charles Burger

$22

Relish aioli, house pickles, shredded lettuce, aged cheddar. Served with side soup, greens salad, or fries.

Truffle "Mac N' Cheese"

$20

Truffle mornay sauce, double smoked bacon, basil.

Al's Fried Chicken Sandwich

$22

Fresh cucumber, dill aioli, shredded cabbage, pickled jalapeño. Served with side soup, greens salad, or fries.

Steak Frites

$32

Flank steak, chimichurri, house cut fries, pickled onion.

Ribeye Beef Stew

$25

Silversmith black gravy, Yukon gold mashed, pearl onion's.

Vegetarian

$22

Garlic hummus, fresh radish, pickled beets, fresh greens, shaved fennel, orange supreme.

Organic Trout

$26

Kimchi fried rice, crispy brussels sprouts, lemon aioli.
Appetizer

Artisan Bread

$7

Flavored whipped butter, maldon salt, oil.

Soup du Jour

$15

Chef's daily creation.

Seasonal Greens

$18

Mixed spring lettuce, roasted walnuts, Monforte Chevre, honey mustard dressing.

Smoked Salmon "Tartare"

$25

Baguette crostini, dijon honey, spring mix.

Quebec Foie Gras

$28

Pan seared pave, mixed berry gastrique, truffle crostini. 

'Digby' Scallops

$34

Asparagus, bell pepper, citrus salsa.

Charcuterie & Artisanal Cheese Board

$36

Regional cheeses, cured meats, pickled vegetables, preserves, baguette crostini.

Entrée

Alaskan Black Cod

$52

Crispy skin, butternut squash risotto, chorizo, brussel sprouts.

AAA Beef Tenderloin

$56

6 oz Ontario tenderloin, smoked bell pepper purée, prosciutto potato pave, greenhouse vegetables, mushroom ragout.

Ontario Rack of Lamb

$54

Mint cous cous, asparagus, rapini, carrot, candied beet, red wine gravy.

Organic Chicken Suprême

$48

Roasted, fingerling potatoes, pancetta, zucchini ragout, seasonal vegetables, beet purée.

Chef's Daily Vegetarian Creation

$30
$80 Per person. Available December 24 & 25th, 2023 from 5:00 p.m. – 9:00 p.m. Available for all hotel dinner packages. À la carte menu also available. Price subject to tax and gratuity. Reservations required.

Choice of Appetizer

Butternut Squash Soup

Truffle oil, goat cheese, crispy sage

Pan Seared Digby Scallops

U-10 Scallops, white bean fricassee, Belgian endive, cured lemon

Cranberry Kale Salad

Icewine poached cranberries, red kale, shaved parmesan, Champagne vinaigrette

Choice of Entrée

Duck Leg Confit

Parsnip purée, roasted Brussel sprouts, pickled red onion, acorn squash.

Pan Seared Striploin

Roasted fingerling rosemary potato, oyster mushroom duxelle, veal jus, honey glazed carrots, turnip.

Baked Halibut

Pistachio crust, cippolini onion, swiss chard, beluga lentils.

Choice of Dessert

Crème Brûlée

Warm spice crème brûlée, macerated strawberries, mint.

Chocolate Ganache

Sponge toffee, cranberry compote
$95 Per person. $45 Wine pairing. Available December 31, 2023 from 5 p.m. – 9 p.m. Prices subject to tax and gratuity. Reservations required.

Quebec Foie Gras Torchon

Black current gel, brioche, pistachio gremolata.

Provimi Veal Consume

Wild mushroom, brandy caramelized shallot, lemon balm.

Seared 'Digby' U-10 Scallop

Brown butter squash purée, duck confit ravioli, crispy shallots, swiss chard, chervil.

Braised Ontario Beef Short Rib

Pomme robuchon, fried brussels sprouts, pickled pearl onion, cured lemon.

Local Apple Confit

Brown butter streusel, cardamom ice cream.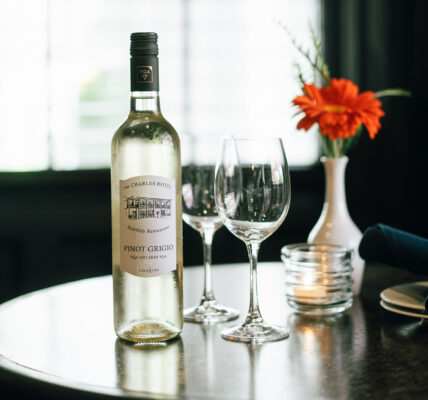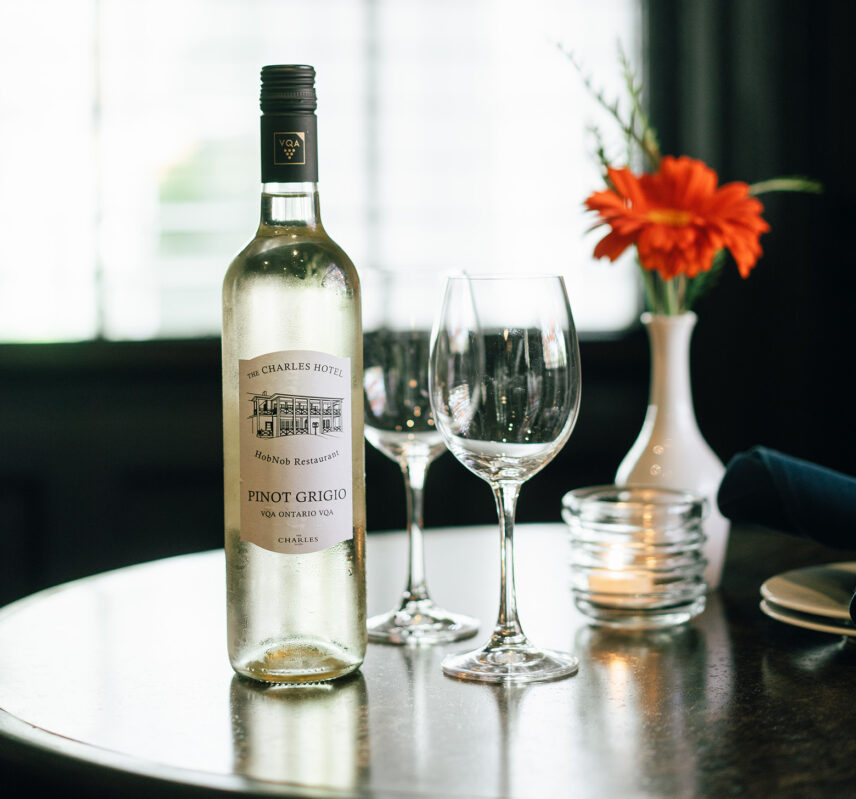 Discover Our Wine List
Taste the flavours of the Niagara terroir. Our wine list, curated by our seasoned sommelier, highlights the varietals of the region and includes an exciting selection of wines and Icewines.
"We visited as part of a wine tour. We found the service and food top notch and would have no hesitation in returning on our own."

Jeff R.

"This chef deserves an extra thanks! The food was fantastic and had extra touches. The staff was also very attentive, and knowledgeable about the food and the way it was prepared."

Ineka N.

"A wonderful dining experience. From the decor, to the service, to the food – everything top notch. Overall, an excellent experience for fine dining."

Lisa H.
Previous Slide
Next Slide