Pear Tarte Tatin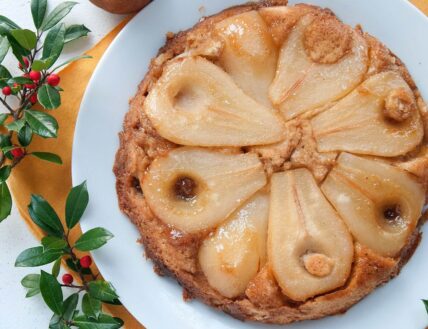 Continue reading Pear Tarte Tatin
A French twist on Thanksgiving dessert
Why not serve a traditional French dessert this Thanksgiving dessert? Zees Grill's Pear Tarte Tatin is buttery, flaky and utterly delicious with caramelized, and in season, pears baked in an upside-down tart. Paired with Queenston Mile Vineyard's Mile High Sparkling your dessert course will be simply spectacular.
Compliments of Executive Chef Trevor Gleave from Zees Grill at The Shaw Club. Wine pairing compliments of the Sommelier team at Queenston Mile Vineyard.
Ingredients
Serves 6
Ingredients:
4 Ripe pears
100 g Caster sugar
50 g Unsalted butter
1 Vanilla pod, seeds scraped out
1 Star anise
1 Cinnamon stick
1 Roll of ready-made puff pastry (store bought or homemade)
Method
Preheat oven to 400˚F.
Peel, quarter, and core pears.
Place sugar in a cast iron oven proof pan and melt over low heat without stirring.
Once sugar has browned and turned a caramel colour, stir in the butter to make smooth.
Split vanilla bean in half and scrape the seeds into the pan, add the vanilla pod, star anise, and cinnamon stick.
Arrange the pears in the pan, cut side up, then turn the heat up to medium and cook for approximately 5 minutes.
Roll puff pastry to 5 mm and cut a circle slightly larger then the pan.
Place the pastry over the pears and tuck the pastry under the pears using a spoon.
Bake in the oven for 30 minutes until the pastry is golden and has risen.
Remove from the oven and allow to cool in the pan for 5 minutes to let the caramel settle.
Place a serving plate over the pan and carefully flip the tarte over onto the serving plate.
Serve with custard, or ice cream.
Wine Pairing – Mile High, Queenston Mile Vineyard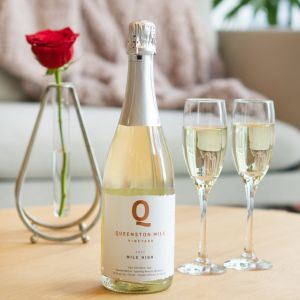 This 100% Riesling based sparkling wine pairs perfectly Pear Tart Tatin. The juicy tropical fruit flavours perfectly balance the Niagara pear fruit notes. Pairing compliments of the sommeliers of Queenston Mile Vineyard.
Discover Queenston Mile Vineyard aboard the Wine Trolley Tour on your next escape to Niagara-on-the-Lake.