Stuffed Pork Chop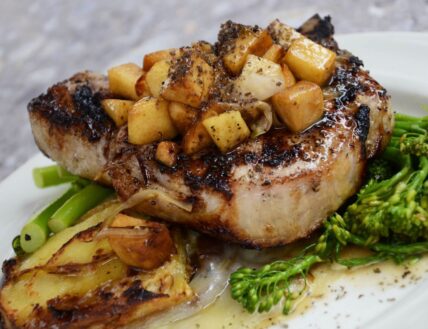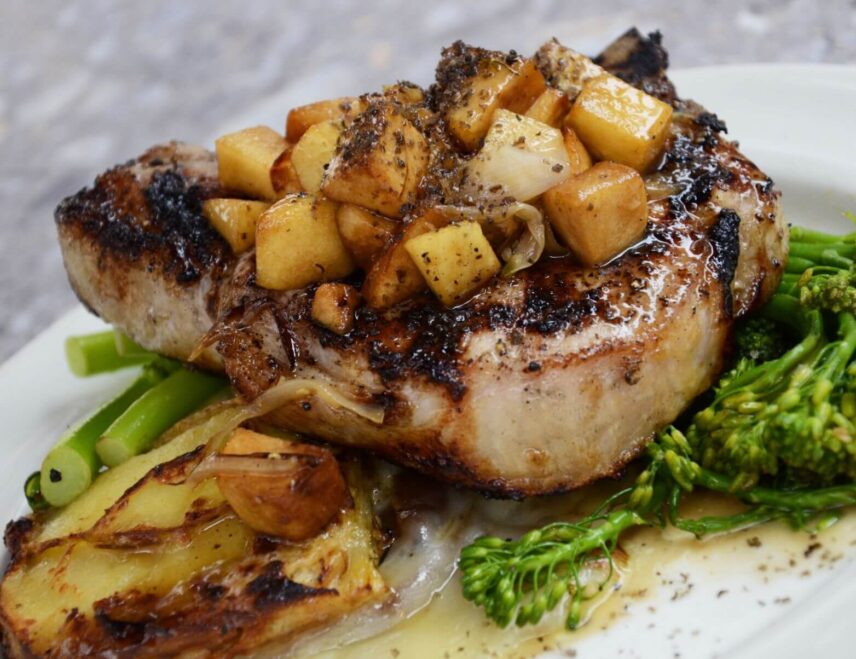 Continue reading Stuffed Pork Chop
A decadent meal
This Pork Chop is exceptional, stuffed with a mixture of herbs, mushrooms, pistachios and breadcrumbs, it's reminiscent of Thanksgiving stuffing in the best possible way. Serve with your favourite comfort side, a perfectly paired wine and then drizzle with pan sauce for a decadent meal.
Compliments of Executive Chef Trevor Gleave from Zees Grill at The Shaw Club.
Wine pairing curtesy of Food & Beverage Manager Kara Rochon from The Shaw Club.
Ingredients
Serves 6
Ingredients:
2 tsp Butter
1/2 cup Sliced and washed leeks (very loosely packed)
1/2 cup Mushrooms, chopped
Leaves from 1 small sprig of thyme
1 clove Garlic
1/3 cup Unseasoned bread cut into cubes (no crust)
3 tbsp Chopped pistachios
2 tsp Chopped fresh parsley
2-3 tbsp Chicken broth (and more if you want to make a pan sauce)
2 Pork chops, butterflied or with deep pockets cut into them, pounded if very thick
2 tsp Olive oil
Method
To make the stuffing, heat the butter in a pan over medium heat until melted, and then add the leeks, mushrooms, and thyme.
Add a little salt and pepper and cook until the moisture from the mushrooms has cooked off and evaporated.
Stir in the garlic and cook about 40 seconds, or until fragrant. Place the mixture into a medium bowl.
Add the bread cubes, pistachios and parsley to the bowl, tossing to combine. Add a little chicken broth just to moisten the bread.
Season the pork chops with salt and pepper.
Stuff each pork chop with half the bread mixture (if necessary, secure with a toothpick or twine).
Heat the oil in an oven-proof pan. Once hot, add the chops and brown on both sides (just one to two minutes).
Place the pan in the preheated oven and bake until pork chops are cooked through, about 10 minutes or a little more, depending on thickness.
If you want, make a pan sauce by adding some chicken stock to the pan once you've removed the pork chops, and reduce over medium-high heat, seasoning to taste.
You can start with a roux (or stir in a corn starch slurry) if you'd like a thicker pan sauce.


Wine Pairing: 2019 Adamo Redhead Pinot Noir
Wine pairing curtesy of Food & Beverage Manager Kara Rochon from The Shaw Club.
The 2019 Adamo Redhead Pinot Noir will pair really well with the stuffed pork chop. This wine is a light to medium bodied red that has fruit notes of cherry and red currants, along with earthiness and a lingering finish. This pinot noir pairs nicely with pork, the earthiness of the wine will pair well with the mushrooms in the stuffing.