Zee's Grills Caramel Apple Pie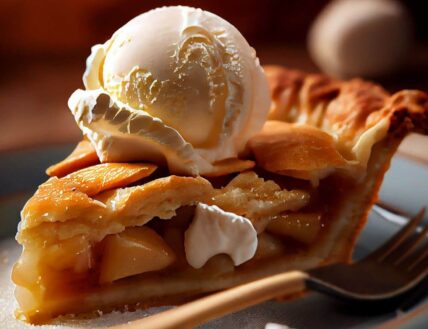 Continue reading Zee's Grills Caramel Apple Pie
An Indulgent Twist
Take your classic Apple Pie recipe up a notch with the addition of sweet and buttery caramel. Fall perfect flavours of cinnamon spiced apples and caramel are served in a buttery, flaky crust for a dessert you won't soon forget.
It's best to use a variety of apples in your apple pie, and we recommend using half tart and half sweet. Take your dessert from unforgettable to simply spectacular with a glass of Lakeview Wine Co's Vidal Icewine on the side.
Recipe compliments of Executive Chef Trevor Gleave from Zees Grill at The Shaw Club. Wine pairing compliments of the Sommelier team at Lakeview Wine Co.
Ingredients
Serves 8
Ingredients:
½ cup White sugar
½ cup Brown sugar
6 tbsp Unsalted butter
¼ cup Water
¼ tsp Cinnamon
1 pinch Salt
1 Pastry for double-crust pie
5 Apples (peeled, cored and sliced)
Method
Pre-heat the oven to 425˚F (220˚C).
Combine white sugar, brown sugar, butter, water, cinnamon, and salt in a saucepan over medium heat. Bring to a boil, remove from heat, and set aside.
Roll out half the pastry to fit a 9-inch pie plate. Place bottom crust in pie plate; pour in apple slices.
Roll out top crust into a 10-inch circle. Cut into 8 (1-inch) wide strips with a sharp paring knife or pastry wheel.
Weave the pastry strips, one at a time, into a lattice pattern. Fold the ends of the lattice strips under the edge of the bottom crust and crimp to seal.
Pour butter-sugar mixture over top of pie, coating the lattice, and allowing any remaining sauce to drizzle through the crust.
Bake in the pre-heated oven for 15 minutes.
Reduce heat to 350˚F (175˚C), and bake until the crust is golden brown, the caramel on the top crust is set, and the apple filling is bubbling, 35 to 40 more minutes.
Allow to cool completely before slicing.
Wine Pairing – 2017 Lakeview Vidal Icewine, Lakeview Wine Co
This Vidal Icewine from Lakeview Cellars has a palate of fresh peach, honey and lychee fruit. Hand harvested in the middle of the Canadian winter at -10˚C. The Icewine underwent a cool fermentation producing a Vidal Icewine with notes of tender fruit straight out of Niagara wine country. Pairing compliments of the sommeliers of Lakeview Wine Co.