Zees Grill's Grilled Tuna Burger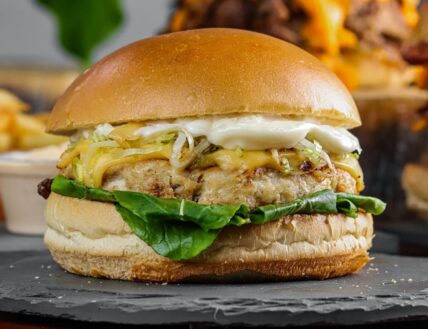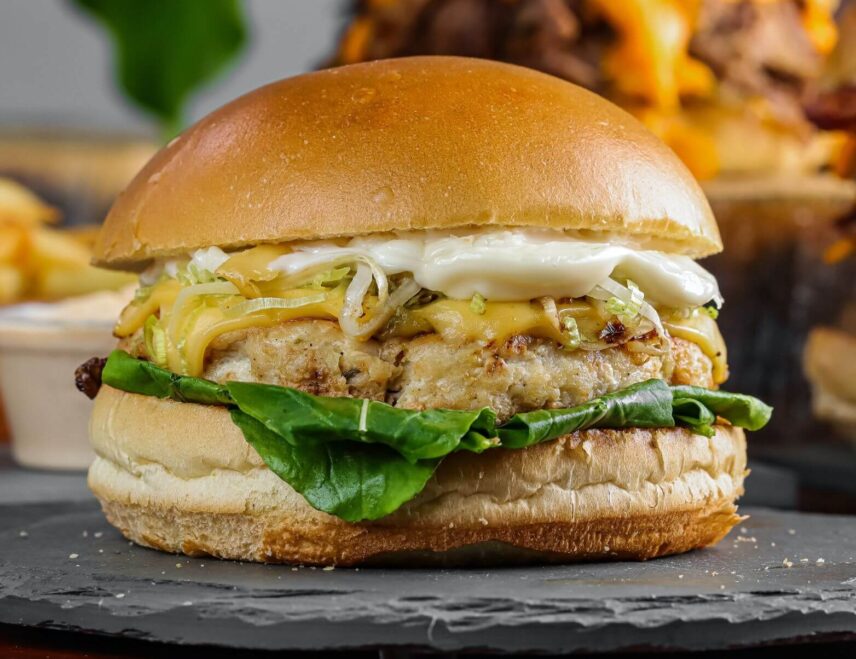 Continue reading Zees Grill's Grilled Tuna Burger
Grilled Tuna Burger
With just a couple of delicious ingredients, you can prepare these flavourful and juicy tuna burgers in minutes for your next summer BBQ! Tuna is a great alternative to the traditional meat patties and just as satisfying.
Compliments of Executive Chef Trevor Gleave from Zees Grill at The Shaw Club.
Ingredients
Serves 10 – 12
Ingredients:
2 ½ lb Ground tuna
1½ fl oz Soy sauce
1 fl. oz Sesame Oil
10 Brioche burger buns
1 cup Mayonnaise
1 tbsp Toragashi spice
1 tsp Chili flakes
1 cup Rice wine vinegar
2 tbsp White sugar
1 tsp Salt
1 Cucumber
Method
Mix tuna, soy sauce, and sesame oil in a large bowl, allow to sit for 5 – 10 minutes under refrigeration.
Meanwhile, mix mayonnaise with toragashi spice and let sit.
Using a vegetable peeler, peel the skin off the cucumber, then peel the cucumber into ribbons, not using the center seeds, and place in a bowl.
In a pot add chili flakes, salt, sugar, vinegar, and some tap water.
Bring to a boil so sugar and salt dissolve and pour over cucumber ribbons and place in the fridge to cool.
Remove Tuna mixture from fridge and form into 5 oz patties.
Either grill at high heat on a greased BBQ or sear in a pan or griddle plate to medium well or desired doneness.
Toast burger buns and spread toragashi mayo on the bottom.
Place tuna burgers on the bun and top with pickled cucumber.
Tips
Substitute using your favourite burger topping.
Add carrot ribbons to cucumber mix for pickled carrots.